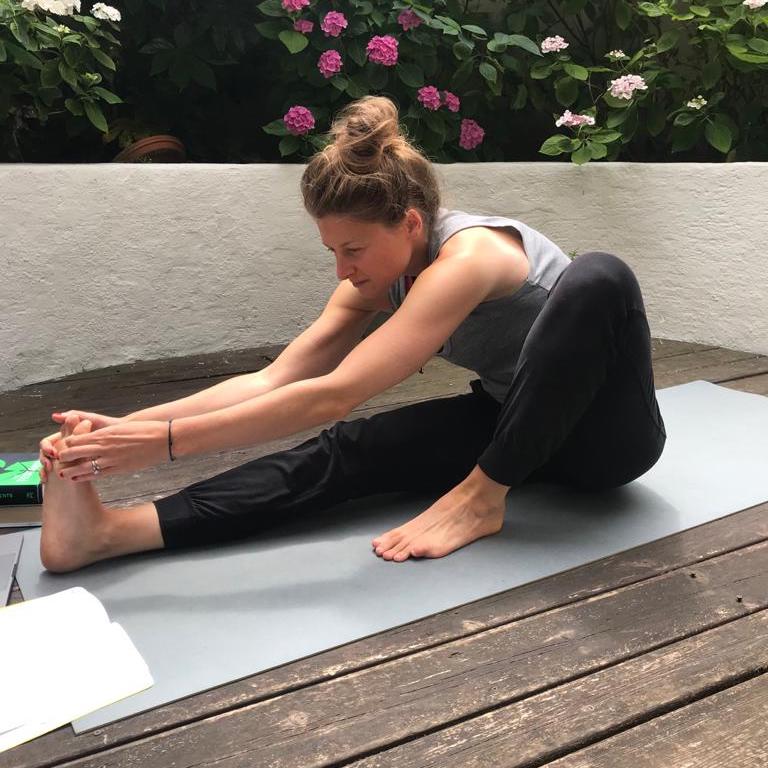 I was born in Brittany, France and moved to Paris at the age of 7. I lived in Le Marais, which is one of my favourite area as it's full of independent shops, narrow streets, food markets and trendy restaurants & bars. Being in the center of the city, I was walking distance to many places and the Quais de Seine. What I loved in Paris was the streets atmosphere, the place of food in our lives and the beauty of the city. After completing my French bachelor degree, and spending some time studying in Mexico which I adored, I wanted to deepen my investment/financial market expertise so I applied for a master degree in London. To my great delight I got an offer. I joined my husband-to-be there, and what I thought might be a year in the UK, ended up in more than 10 years! 
Open to new experiences, I discovered yoga in 2014 thanks to a friend. I had no expectations and never really liked indoor group classes, but as I am pretty curious, I joined her. 
And I have to say, I was very surprised to feel so good after the first session. I started going weekly and on top of feeling so relax and calm, my body slowly started to change. Within 6 months, I gained a lot of core muscles, gained flexibility, and felt lighter even though I have always been sporty and thin. Unlike a cardio exercise, the changes were deeper inside my body and mind. 
When you feel so many benefits and find such a good way to unwind, then comes a time when you want to learn more. Learn about what happens in your body and why you feel this way. On top of deepening my practice, that's what decided me to change path. 
This summer, about to move to Lisbon, I decided to quit my trading job and take a yoga teacher training to start a new life for the 2 years that I chose to spend here. 
You will surely think such change is both trendy and bold, but I've always associated my yoga practice as a complement to my financial job. In a fast-paced environment, yoga brings a sense of calmness and focus on the essential, while physically compensating for the too-long hours spent seated. 
While studying with ZazYoga school in Bali, I loved the depth and width of the curriculum. I have learnt a lot for myself and for you on postures, alignment, anatomy, sequencing, and safety cues. It exceeded my expectations, that's why I want to share my experience and knowledge with you, in the hope that you feel the same amazing benefits that yoga provides. I started to give online vinyasa classes on Zoom to close friends, which then expended to acquaintances, and I am now being referred to friends of friends. Word of mouth is starting and let's see where it will lead me!
I am not someone with passions, I am a woman who has deep interest in few fields and I need a variety of subjects. 
On top of yoga, I am a foodie and I love cooking, and they each are connected as they nourish the body and the mind. I also love investments being in that environment for a decade. I have spent 10 years in financial markets, specialized in trading liquidity products. I am also a CFA charter holder, that brought me a deep investment knowledge on a wide range of asset classes. On top of this, I have a personal interest in macro-economy, financial news, and making links to what's gonna happen in the real economy. I love managing my portfolio, allocating my resources, seeing what's working and what's not, finding the right investment depending on my wishes and constraints. Being on top of my assets gives me a financial peace of mind. I wish more people would dare entering this world. It's vital but many have a blockage thinking it's hard or unaccessible. One day, I'd like to do something about it, educating! 
Lastly, I am an advocate on women's empowerment. I read a lot on this subject and have tons of thoughts. I Love to bring awareness, to give advice when I am asked to and lead friends to push their own barriers. 
This website will hopefully be a mix of those subjects I cherish and I hope you'll find it of quality and a source of inspiration. 
Have a good read!