mariekafinot@gmail.com
To send me a message, please scan the QR code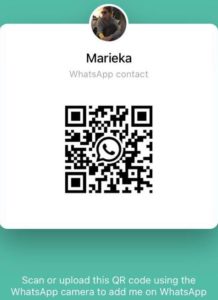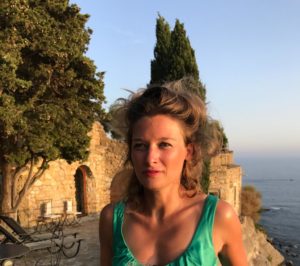 About me!
I was born in Brittany, France and moved to Paris at the age of 7. I lived in Le Marais, which is one of my favourite area as it's full of independent shops, narrow streets, food markets and trendy restaurants & bars. After completing my French bachelor degree, and spending some time studying in Mexico which I adored, I wanted to deepen my investment/financial market expertise so I applied for a master degree in London. I joined my husband-to-be there, and what I thought might be a year in the UK, ended up in more than 10 years! 
Open to new experiences, I discovered yoga in 2014 thanks to a friend. And  within 6 months, I gained a lot of core muscles, flexibility, and felt lighter even though I have always been sporty and thin. Unlike a cardio exercise, the changes were deeper inside me. Yoga was a great complement to my fast-paced financial job as it brought me a sense of calmness and focus on the essential, while physically compensating for the too-long hours spent seated. 
When you feel so many benefits and find such a good way to unwind, then comes a time when you want to learn more. I became a yoga teacher!
In the summer 2020 about to move to Lisbon, I quit my trading job and  became an entrepreneur. 
Having this extensive financial markets' experience and being a CFA charter holder, that brought me a deep investment knowledge on a wide range of asset classes, I couldn't not capitalize on my skills. Mixing this with a financial peace of mind that I found through being on top of my assets and managing my own portfolio, it was a no brainer, I had to share it.
Being aware not a lot of people reach that stage, and that personal finance often creates unecessary stress, I want people, and women especially, to take ownership and to dare entering the investments' world.
So back in March 2021, I launched Money Chill Out podcast, to create a discussion around money and to exchange best practises, in a friendly atmosphere accessible to all. This is my way of reaching people, and of creating a willingness to change. 
And when people are ready, I coach and empower them with their finances. Through financial literacy and real life issues, we are working on creating a global portfolio vision in synch' with their lives. It's a true liberator and a real support! Most of my clients wouldn't have done it on their own. 
I also do workshops for individuals and companies based in Europe, with the same goal in mind: educating, empowering and making the investment world accessible. Financial peace of mind is for everyone, let's tackle it! 
This website is a mix of those subjects I cherish and I hope you'll find it of quality and a source of inspiration. 
Have a good read!