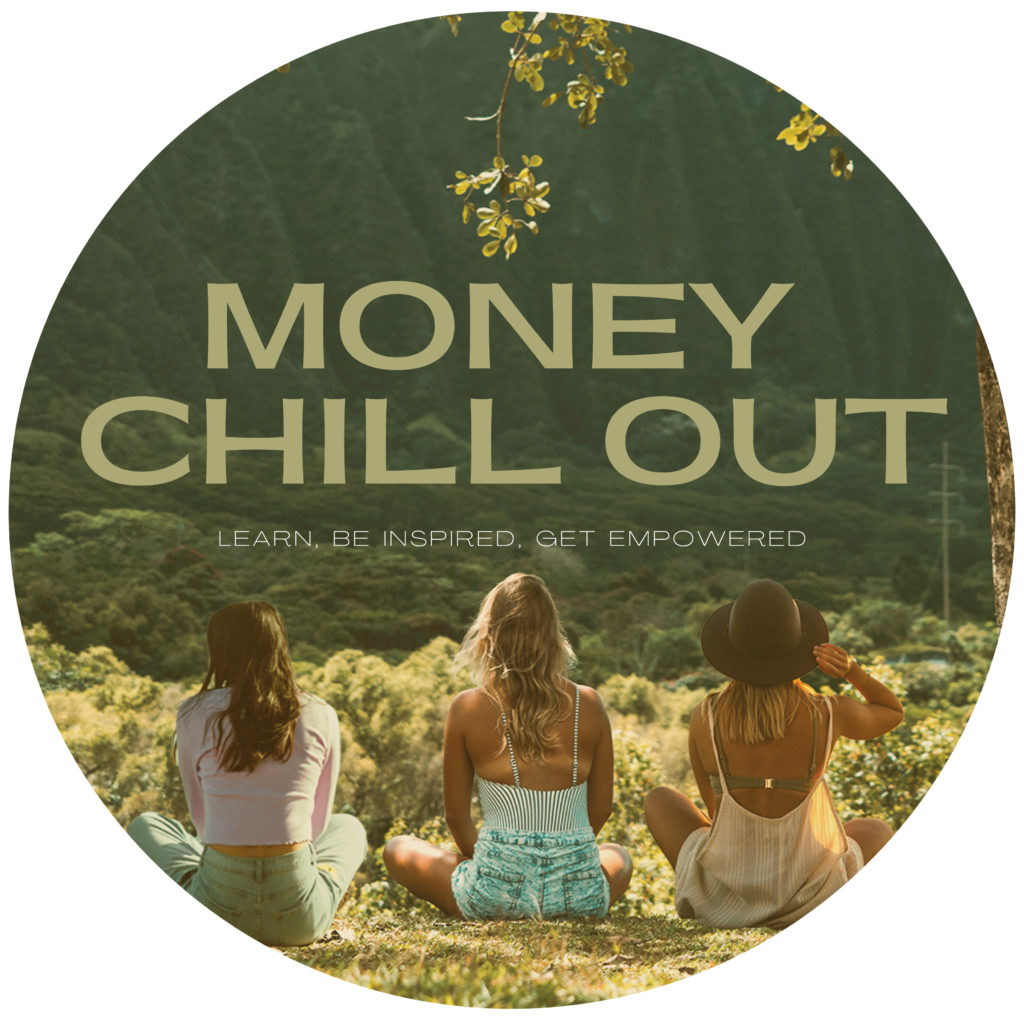 Click here to see all of the episodes
---
Listen to all of the episodes on Spotify or Apple podcasts with the below links

---
Why you should listen?
The topic of money is often taboo and women aren't always taking ownership. Having worked 10 years on trading floors in London, often as the only woman, I want to challenge this unspoken reality and do something about it. And a lot goes through education. Financial literacy is of major importance and the earlier you grasp it, the better you can plan your life ahead, your projects, and reach financial peace of mind. It's a real liberator and it is in this context that I am launching Money Chill Out, to help you demystify the intimidating world of finance, and have an open, honest, and frank conversation. So let's talk about money, mindset, investment habits, and any best practices and join me on this journey to get more comfortable, be inspired, and get empowered!
---
Publication rhythm:
Every other week, on Wednesday evenings!
---
Episode #18: Knowing your worth
Being paid for your worth and having a fair salary seems pretty obvious, but very often when it comes to money and especially with money at work, we can feel awkward and uncomfortable.  Do you know that the vast majority of women never negotiate a salary? Why isn't there full transparency on salary disclosure? Do you think and hope companies will recognize your worth and give you pay rises? The corporate world doesn't work that way, and you need to advocate for yourself. And today, we are joined by Johanna Perrin, a talent lead who will empower you with practical tools and tips to prepare for a salary discussion. With her experience, you'll take some perspective knowing what's being done in the recruitment space, put yourself into companies' shoes, and through research and knowledge you'll get more assertive and find credibility. A rich discussion that may change your way of seeing things and push you to act! Let's go! 
---
Episode #17: Dual couple career, or when one put his career on the side
Today I have the pleasure to welcome PH, a new generation of feminist man, who is trying to change old norms and behaviours. Taking care of his daughter while his wife was in the US trying to grow her company, he realised what it is to be a single parent in charge and the challenges it created, having to leave work at 5pm everyday and barely having any social interactions. Earning less than his wife and only working 2 days a week as a freelancer, his relationship with money has changed, so has their way to invest. The rest of the time, he is working on a side hustle to empower men at birth with videos on how to raise their partners' oxytocin levels. Such a great insight into a more traditional woman's way of life, let's go! 
Key takeaways :
A crucial role in his wife's success


Manage the kids and the admin
Being in charge on his own, acting as a single father for 3 months
How will he cope with no adult discussion?
Will work be ok, having to leave at 5pm everyday?

Tips – Balancing your career


Need to have a comprehensive boss
Need to be strong mentally, efficient & get enough sleep
One of the hardest thing was to lose contact with society and to be alone every night

Couple's investments

Now that they are more financially better off they can take more risks 
Investing in start ups as they connected with founders & have contacts. Risky as only 10% manage to survive
Investing in stocks, with the bulk part in large European & US companies, and 20/30% in emerging markets

Pierre Henri's side hustle

Needed his wife's encouragement to only work 2 days a week: as salary difference would be big, and family would rely on her
Created My birthing pal to empower men at birth with videos on how to raise your partner's oxytocin level
Read books and realised there is very little material for men, by men.

 

Realised the role of the father is so important during the delivery process
---
Episode #16: Money Mindset
Today I am welcoming Laura, a 27 year old Londoner who is sharing her money journey, in an uncomplicated way. Because she is relatable, is starting from scratch and learning along the way, she inspires many people to get better with their money. Talking about all aspects of saving, budgeting, clearing a debt, and investing, she does it in a fun, judgment free and jargon free way. And she is here in Money Chill Out to connect the emotional to the practical, so let's go straight to step 1 as everything starts with money mindset. Let's see what it encompasses, and what we can do with it!
Key takeaways :
Being at ease with money


Talk about money all the time, with friends
Help each other through pay rises etc
Money is amazing, it gives opportunity and freedom
Friends were missing out on money and tips

Money mindset

How you think and feel about money. Affects your behaviour
Impacts the right side of the brain: emotions, not logic
Our thoughts create our reality
Financial stress isn't about the numbers

How to change it?

Acknowledge where you are :

Journal – Vision board – Affirmations

Habit based goal:

Little things that make you feel you are progressing

Educate yourself
Have an accountability partner

Laura's finances

Saves on average 35% of her income

Prioritise saving to spending
Connects the emotional to the practical
Biggest investment mistake:

Not having invested before
---
Episode #15: How to monetise your online content?
Today I have the pleasure to welcome Meriem, a beauty content creator and the woman behind Mimi's signature. She started back in 2016 to share her idea of beauty to empower women to love themselves. 5 years later, she has built a community of more than 130k followers on her YouTube channel and some of her videos are approaching a million views! We'll speak about the onset of her blog, her start as a video publisher, and how she slowly grew to be able to live from her activity and diversify her sources of income. Now being pretty successful she doesn't forget all the efforts and is still very down to earth. Let's hear about her adventure she compares to a marathon!
Key takeaways :
Launching Mimi's signature to empower women to love themselves


Felt into beauty at a young age because of a skin issue

Paid her blog thanks to her yoga job
Problem: not regular

Getting a million views per month on Youtube

Need interesting content and a good concept
Release videos twice a week, every week of the year
Have to retain your followers
The more followers, the more keen people are to engage

Different sources of income

YouTube partner: paid by the ads, per number of views
Affiliate codes
Collaboration and campaigns
Tester before product launches

Key tips

Never give up, it's a marathon not a sprint
Number of followers isn't important, it's how active they are
Often don't see the years of work before being known
Need consistency
---
Episode #14: A success story for a business with values
Today I am welcoming Benjamin, the co-founder of Unbottled, a French-made solid beauty products company that wants to free bathrooms from plastic and chemical products. With people's willingness to reduce waste and be more planet-friendly, their products have found a sweet spot. And it's booming! A year since the launch, they expect to reach 5 million of sales by year-end. From finding the right business partner to starting a brand and reaching out to clients, you'll get brilliant and down-to-earth feedback and advice on their adventure, of course with a financial and money lense.
For anyone looking to launch his project or anyone who likes to learn about success stories, this episode is for you, you'll learn a lot and for sure get inspired!
Key takeaways :
Finding the right partner


It's KEY
Need different hard and soft skills. Complementarity
Have a list of 100 questions each, discuss, argue, and agree to make sure personality fits

Creating a brand

Draft a brand book

Values, direction, strategy

Make assumptions even if 95% of them will be wrong
Find your sweet spot


Money tips

Lived with his economy for the year of prep work
Now gets 2000 euros per month
Don't want to raise capital
Got subsidies and bank loans
Hardest thing is the cash aspect

Big working capital swings: need to invest in inventory before selling the products

To increase your brand awareness

Word of mouth
Paid acquisitions on instagram
Get articles in the press by sending your products
Make collaboration with other brands
---
Episode #13: Being self employed and all that comes with it
Today I have the pleasure to interview Lauriane Gepner, a travel and lifestyle journalist, and we are talking about being self-employed and all that comes with it. Indeed, her passion for writing is only 50% of the job, and she needs to manage a lot more from prospecting to pitching new story ideas, organizing trips, and making sure your clients pay. So let's dig into how to organize your time, how to create a name, and how to make a living when you are your own boss. And with 10 years of experience, let's get her wise feedback on setting your own business rules, through confidence, legitimacy, and proactivity.
Key takeaways :
S

elf employed travel and lifestyle journalist

Passion for writing is only 50% of the job
Hardest thing: all what comes with it

Prospecting clients / Pitching story ideas
Organising trips and with your time
Making sure your clients pay

Money aspects

Media industry: not much leeway, you take what you are being offered
Paid by the number of signs
Writing for the web: pays less as so much available content
Most beautiful business cards don't necessarily make you a living
Nothing happens by magic: work hard to make a name

Top tips

The more you write, the more you have things to show
Experience gives you freedom and confidence
Be proactive, find yourself legitimate to prospect
Refuse jobs when no interest in the topic and time/money ratio isn't worth it
Do work that would take you somewhere else even though it's not well paid
---
Episode #12: Learning from the top, part I, investments and initiatives to financially empower women
We are back with Lindsey, who took over a financial planning and advise business in Seattle and today we're discussing about investments and initiatives to financially empower women. This episode is an inspiring lesson and a share of knowledge so that people understand how women invest, what they are after, and how to start investing following key investment principles and tips so that you have the confidence to make informed rational decisions and reach financial independence. what a great program !
Key takeaways :
Women and investments

Greater risk awareness for women
Makes us better investors, because we take the time to understand
Women focus on the big picture and long term

Investment principles

Start small and invest as soon as possible

Look at the long term. Differentiate between saving and investing

Create a portfolio for each goal

Investment tips

Understand WHY you are investing
Understand the psychology of money, as it influences our decisions
Stay focused, and make informed rational decisions
Start the discussion, to get more comfortable and learn from others

Empowering women

Writing a book: A journey to financial independence through real life ups and downs
Workshops on creating smart financial goals, proper use of borrowing, protecting yourself and investing essentials
Consulting: 3 months to 3 year. Financial expert to lean on
---
Episode #11: Learning from the top, part I, financial planning
Financial planning is an usual word, still, we don't necessarily know what it is and all that it covers. From understanding the mechanics of money, to establishing financial goals and ways to get there, let's learn about this new generation of female financial planner who seek to partner with their clients and help them transition in life. And for this, Lindsey, a pretty inspiring profile in the finance industry, who took over a family business in Seattle, will shed a light on her activity.
Key takeaways :
An early interest in finance


Wanted to understand the mechanics of money
Parents divorced, it reinforced her wish
Good start of career, loved the area and thrived with mentors and champions

Becoming a business owner


Big commitment: work for a family business, not just a job, more LT
Extended time off to travel to make sure it was the right opportunity for her
Extremely rewarding and challenging at times

What it is to be a financial advisor

Partner with a client, establish current financial situation, where they want to go and create a roadmap to get there
Identify areas where the plan can be disrupted through life events
Manage client assets
Fee for service engagement and/or ongoing management fee
---
Episode #10: Money when moving to a new country
Expatriation is amazing: it's a new challenge, it widens your mind and it's full of discoveries. Still, you need to understand well the local specificities in order to be able to negotiate your salary and leave with good conditions. Money considerations like cost of living, taxes, and pensions are very important. So is your return to your home country. To get back on your foot have peace of mind, a bit of planning and forward-thinking is essential. So let's hear about Julie's experience, a French woman living in Romania.
Key takeaways :
Move to Romania


Wanted a challenge, to discover something new and to widen the mind
Were targeting Europe, and wanted to do it early without kids
Took 6 months to find an opportunity
As they were moving as a couple, in the deal, the company had to find a job for the 2 of them

Money considerations

Local contract paid 3 times less than her French salary

Negotiated a net salary, to avoid complicated taxes considerations
To get a feel of the living cost, did a 1-week trip and got a cheat sheet provided by her company

Looking at the global package and with her husband's expat contract,

they were better off

Return to the home country

Negotiated 3 years ago, to come back to the same company once the experience is over
Local pension: European law that enables to convert back the contributions back to your home country
Salary on her return: still being negotiated but hope for a 10% increase compared to when she left
---
Episode #9: Earning less than your partner
Today I am with Benjamin, who earns less than his wife. Like 25% of couples, he is not the primary breadwinner and feels great about it. He was working in investment banking and decided to move to Moodys to spend more time with his girls, to be the king of his agenda and so that his wife could take a big opportunity. He sees his couple as a team and even though this situation is much frequent than we think, he still gets jokes about it and thinks men aren't ready for it! We'll also speak about investments, where Benjamin's focus is really about income tax relief, and how he became a whisky investor with the desire to build something for his girls.
Let's listen to this story, full of good sense!
Key takeaways :
Earning less and feeling great about it


Earning less: very open, everybody knows about it, he is proud
His wife earns 15% more, been 3 years
Great not to be the main breadwinner, take a weight off the shoulders
Men aren't ready for it: he gets jokes, doesn't understand why but doesn't care because he prefers to be in his situation. The more they earn, the better.

Teamwork


His wife was able to take the opportunity as he was managing the girls
He Moved away from investment banking,

accepted to earn less, to spend more time with his daughter
Now it's much better: He is flexible and the king of his agenda

Investments

He manages for them, even though his wife is aware and confident. He uses his own spreadsheet
Big focus on Income tax relief
Invest in Whisky: Desire to build something for his girls
---
Episode #8: Financially planning for big events: studies and baby
Tessa is a bright woman with a lot of ambition. She works hard, puts in the effort, and manages to achieve. From ESSEC, a top French Business School to Harvard in the US, she always eyes for the top. But studies have a cost and she managed to have a big chunk of her MBA funded by merit-based scholarships. What's great is that since living in the US, she has also learned about raising funds for charities. She'll share with us how she does it and what are her tips to be focused on and achieve. She is now about to welcome a baby boy, so let's see how her financial planning is going on!
Key takeaways :
How to fund an MBA at Harvard

Calculated risk, $140k for 2 years of tuition fees
Lots of research to know about scholarships and financial aid:
Managed to get a big chunk fully funded by a merit-based scholarship
Borrowed the remaining portion, at low-interest rates

How to achieve


Be as smart as possible: Get the most info possible
Get comfortable making a decision without having all the set of data
A lot of work, work ethic
Determination

Financially planning for a baby

in NY, employers do their own thing for family leave to attract talents
For Tessa, can take up to 12 weeks off, paid at 67%
Paternity leave: 2 weeks
Cost of living in NY compared to Paris (2 to 3 times more expensive without a baby!), so financial planning is key!
---
Episode #7: Money and divorce
Sometimes there are things in life that we didn't plan, like divorce. At money chill out, we have no taboo speaking about money and it should be the case with whatever situation we are facing. Our guest today, Anne, 33 and mum of Archibald is sharing her story of separation through the money lens. From the decision to split to the ups and downs of the legal process, the financial terms of the divorce, and the new life that she is willing to embrace, let's embark on this discussion where openness and benevolence are prevailing.
Key takeaways :
Divorce

Initiated it after 11 years. Unhappy, too much energy to make it work.

Personal and pro-life were mixed

Didn't plan anything money-wise. Were about to open a restaurant together.

A 2-year process


Complexities as under French wedding law, but divorce under Portuguese court.

Hard time. Naïve about not having the dirty money conversation
Money is an easy subject to fight. But the dad of my child, so don't want to hurt him

Result

Trust saved them. Found a win-win agreement after a long negotiation. Happy ex-couple.

Found a balance: shared custody for their 4yr old child
When you give, you always get it back somehow and you can start living your new life and having exciting projects
---
Episode #6: Money and relationships
Today we gonna speak about Money and relationship!
Ever wondered how others do? Listen to this episode where Fadia gives us insight on how she does it!
Lots of subjects to speak about, from her wedding law and heritage questions, to how money is split for the day-to-day spending and who does what for the Medium to Long term investments.
Great money and investment insights from a couple where there are no natural leaders.


Key takeaways :
Family set up

Wedding contract: separation of goods as entrepreneurs. Protection needed not to pass the debt to the family.

Day to day budget: Fadia was paying the mortgage, then equal split, then joint account, now more proportionally to what each earns
Tips for money within the couple: communication is KEY!

Who does what?


Her: real estate: used leverage as very low-interest rates
Him: financial products.

All decision and investments are shared and discussed

Both risk-takers

Action plan to start investing:

Talk with friends and family to forge an opinion
confront a list of questions with professionals
listen to podcasts
---
Episode #5: Money in unplanned circumstances
Often, there are things you don't control in life, like being made redundant.
In this episode, we'll speak about money when the near future is uncertain, but when opportunities are open and when a change is possible.
Let's see how Maud has managed from hearing the news, to make this period one of opportunities, and the new challenges she faces.
Interesting story on a situation that happens way more than we think and when we need to truly let go!
Key takeaways :
Being made redundant

Took it extremely personally

It hurts ego wise

Decent redundancy package

Then mentally shifted to a new world of opportunities to move on

What's next for Maud?

Realized it's important to bring money to her family

Became yoga teacher

expand outside of your inner circle: very hard

Looking for:

Flexibility

Having different activities as it's nourishing and constructive

Opportunity to let go, get rid of the control you normally put in place

New challenges

What people would think about me: hard

Not comfortable with uncertainty: but needs to manage and live in the present moment

Not drawing conclusions too fast, give time to things
---
Episode #4: Money earned vs. money received and investments in Arts
Today we'll dig into the consequences of being gifted money, the responsibility it implies, the choices made with it, and the differences compared to when we earn it in corporate life. Being with an art enthusiast, we have wisely used Maureen's passion and knowledge to know more about this non-usual asset class!
Key takeaways :
Maureen money concepts:

Feel better if manage to put money aside

Don't spend more money than you earn

Align your spending with an increased happiness

Be aware: speak to people, surround yourself with experts in their fields, read the newspaper

Listen carefully, ask questions, nourish yourself

Art is a passion

First step: Need to define what you like, don't like. Then discuss the price.

To keep track of artists

Receive daily newsletter

Subscription to art magazines

Go to galleries and few necessary annual events

Art Basel, Art Basel Miami, Fiac Paris, Freeze London
---
Episode #3: Insight of a trader's own money management
Ever wanted to know how a trader deals with her own money and what are her best practices? In just 30 minutes, we'll get great insight into money management and discipline, equity investment, and how to be switched on in our world to know our worth. Don't miss this rich and accessible discussion from someone in the industry, without forgetting some lightheartedness!
Key takeaways :
If you have a clear goal in mind, discipline is easier
Align spending to your important things in life
Invest in equities:

That talk to you, where you either like the story behind it, the vision and want them to grow
Undervalued stocks
To spread risk from real estate

In order to gain knowledge:

Expose yourself to news in order to be switched on: Bloomberg TV, economist podcasts, seeking alpha blog

For salary awareness and negotiations: be aware of your industry, knowledge is power

Discuss and disclose salaries/bonuses to friends
Take headhunters calls, to have a market update of who's looking and at what salary

Best tips:

Have a 3-month safety net as a cushion and peace of mind to cope for unexpected events and rainy days
Need control over finances: knowing your inflows and outflows removes pressure, and you can act to achieve your goals
Start investing small, get familiar, and learn through the process
---
Episode #2: Not depending on a paycheck through real estate investment
Want to be financially independent in your early 30s? This is possible! Listen to Vanessa's story on how she massively saved while in the corporate world, to invest in real estate and solely rely on rent incomes. With this in place, she was able to take some risks, she launched her own start-up and became a trendy digital nomad. Don't miss her great tips and her very inspiring story!
Key takeaways :
Going from a financially comfortable corporate job to launching a start-up




Impatient, wanted things to move more quickly
Don't want anyone to decide on her career

Planning a change


Focused on her goal: saved a lot for 3 years to invest in a property and be financially independent.

Had to stop traveling and spending

Was easier than thought as it's a step by step process and then you get used to it

Tips not to depend on a paycheck

Save, invest and diversify

risk management

Want to control risk, always imagine the worst-case scenario and if you can handle it
Need savings on the side to have peace of mind
No equity investment: need stability as way of life is more risky

Tips to invest in real estate

Buy a rundown house, that needs a lot of work in a promising neighborhood
Look at websites to see similar listings and have an idea of potential income
Contact the council to understand the law and what you're allowed to do
Compare the ratio of investment vs. what you can expect as a return
---
Episode #1: Tracking, planning, and forecasting to go a long way in life!
In this episode, we'll speak about tracking, planning, and forecasting with a finance director, Anne-Claire Aubert. She'll tell us why it's so important to be aware of what you have and spend, how you can track your finances and take actions on what you've discovered, how she has planned a move from Australia to Europe with no jobs and 2 kids, and the process she followed to buy a house. Lots of info and insight from a rational woman.
Key takeaways :
Tracking:

Eye opener, use an app so that it gives you a report each month. Enables you to see where you spend without necessarily realizing it. Possibility to take actions as now you're aware

Planning:

Planning a move is always risky but you need to mitigate it.

Going from Australia to Europe, with no jobs and 2 kids, was fine as worst comes to the worst, there was a family house they could use, so no expenses except groceries, and summer holidays so kids not in school.

Forecasting:

Thought process for buying a house: LT view, stop throwing money away through rent
First step: Meet with a broker, to have an idea of a budget.

Don't necessarily go to the maximum you can afford
Do worst-case scenario: what if one loses its job, or the two.

Any advice for a house:

The sooner you can buy, do it
---
Community area & Reviews
Leave your email address to be aware of new episodes
Please leave your comments and feedback!
Who would you want to get interviewed next?