The podcast to get inspired and feel good about your money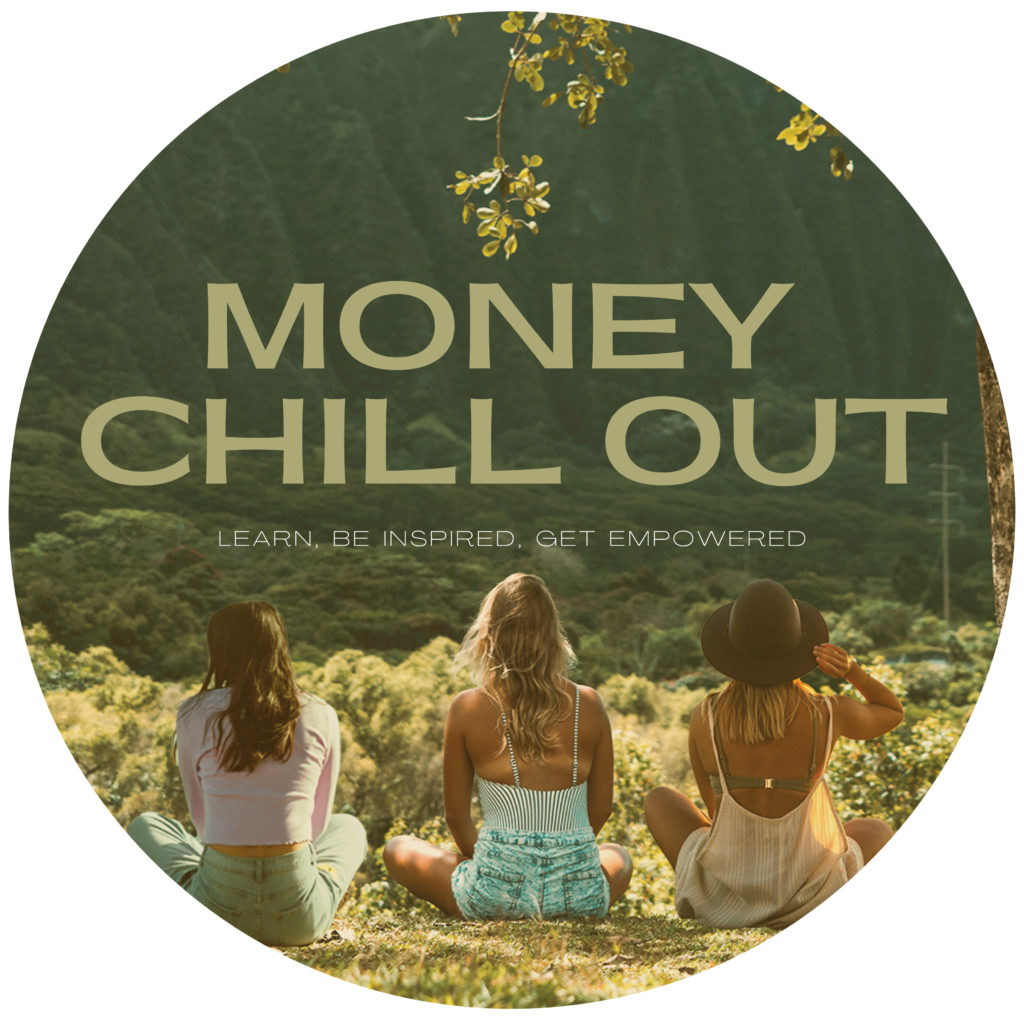 Click here to see all of the episodes
---
Listen to all of the episodes on Spotify or Apple podcasts with the below links

---
Why you should listen?
The topic of money is often taboo and women aren't always taking ownership. Having worked 10 years on trading floors in London, often as the only woman, I want to challenge this unspoken reality and do something about it. And a lot goes through education. Financial literacy is of major importance and the earlier you grasp it, the better you can plan your life ahead, your projects, and reach financial peace of mind. It's a real liberator and it is in this context that I am launching Money Chill Out, to help you demystify the intimidating world of finance, and have an open, honest, and frank conversation. So let's talk about money, mindset, investment habits, and any best practices and join me on this journey to get more comfortable, be inspired, and get empowered!
---
Publication rhythm:
Every other week, on Wednesday mornings!
---
Episode #39: Money movers
83% of women care about where their money is invested, and 69% feel a sense of urgency for responsible investing. Yet, a lot of them feel disengaged with their personal finances. 
That's what we discuss with Anneka Deva, my guest for Money Chill Out Podcast, who aims to empower 30 000 women to move £ 1 billion for the planet by 2030. 
Here is what we discussed : 
🔣 Some key statistics
🚀 How changing your pension provider is 21 times more powerful than lowering your carbon footprint, going vegetarian, stopping flying, and changing your energy provider combined!
💫 How beginning your learning journey is the most important
🌎 Mapping your money
🌈 Sharing some inspiring contents
---
Episode #38: Getting good financial habits
"It feels like everyone can afford everything all of the time … There was an element of me trying to chase that, I wanted to be part of that cool life too"
Today on Money Chill Out Podcast, we are talking about building good financial habits with Patrick Venn, who used to be "awful" with money according to his words!
After a wake-up call at 27, where his girlfriend had to lend him money for his best friend's wedding, he went a long way. In 2.5 years, he devoured podcasts to get himself educated, got a higher-paying job, and succeeded to pay back his £20k credit card debt. 💰
Thanks to his experience and how much he learned along the way, he decided to launch TOMII, a financial coaching platform for everyone! 🌈
Want to hear about how to create and maintain good financial habits? This episode is for you! 🎧 
---
Episode #37: Teaching kids about money
💡 "You can start educating your kids about money from the age of 4"
At that age, they can start creating money habits, having pocket money, and understanding a few concepts.
But how? That's what we discussed with Will Rainey 👱🏻‍♂️, from Blue Tree Savings
While teaching his young daughters, he wrote weekly on his blog and published a book, Grandpa's fortune fables.
If you want to know : 
🌈 How to open up the subject of money with your kids
📚 How to teach in a fun way to get them engaged from a young age – 7 to 13 years old
🙋‍♀️ How to respond to their blunt questions!
💰 How can they understand the value of money?
🚦How pocket money is the most underrated education tool
This episode is for you!
---
Episode #36: Green financing
🎙 "I thought a lot of the finance world was a bit shallow and I wanted to give more meaning to what I was doing"
Whatever industry you're in, do you have the same desire?
Today, I am very pleased to welcome Stéphanie Mielnik, CFA, a woman who put in the effort to find a job 100% aligned with her values.
She works for the Anthropocene Fixed Income Institute, an NGO that advocates for climate transition within the fixed income markets. Or in other words, how to redirect capital flows from dirty to green by bringing awareness and using a market-based approach.
In this episode, we are talking about :
🍀 What is green finance?
💫 Her action to help financial institutions restructure their portfolio with green financials
💡 New initiatives like sustainability linked bonds
💥 Positive news with players shying away from fossil fuels
Such an interesting discussion with an optimist expert, to bring you up to date with initiatives in this space. Let's go!
---
Episode #35: Deep dive on pensions
💥 Did you know people on average lose 40% of their income at retirement?
And that number can go to 60% for high-earning individuals?
In order to be well prepared for this life-changing event, I have the pleasure of inviting my ex-finance teacher at ESSEC Business School and investment professional, David Rideau.
In this 35th episode of Money Chill Out Podcast, we have discussed :
💡 Why having a private pension is wise
🚦 When to start investing for your pension
💰 The tax incentives to do so
💫 Your options at retirement
❤️ How to protect your spouse
---
Episode #34: Starting to invest
The hardest is often to start.
This is true for a lot of things, of which entering the stock market
That's why today for Money Chill Out Podcast, I am with Martin Juul-0lsen to speak about "Starting to invest"!
Martin has been investing since 2008 when he experienced the market crash losing most of his savings. He learned the hard way but instead of being put off, he got interested, and made it his job! He helps newbies in the market to start their investing journey
In this episode, you'll learn about:
🤷‍♂️The first things you need to do
💫 How to figure out your strategy
💥 The power of emotions
💡 Which powerful habits you can implement
📚 How to get info & knowledge
🚀 Ready to take the fast lane? Let's go!
---
Episode #33: Dealing and learning about taxes
Do you think speaking about taxes is a bit like Marmite, either you love it or you hate it?
I think so, and that's why I needed a passionate speaker to keep you interested and learn about this subject which is of utmost importance when we look at investments.
Today for Money Chill Out Podcast, I am very pleased to welcome Carla Hoppe, the founder of @wealthbrite and ex-international tax specialist.
In this episode she'll :
– Give us an overview of taxes, from VAT to pink tax 🚦
– Dive into investments taxes with the likes of rental, dividend, and capital gain taxes 📚
– Step back to understand what states want to achieve with their taxation. High taxes aren't an issue if you get them back somehow i.e Nordic states. 🍀
– Open up the subject with one of the biggest debates about taxing capital
---
Episode #32: Modern financial planning
Anthony Carlton is a Certified financial planner and Vice President in a fintech wealth firm. He helps People in Tech Become Smart Investors.
I am sure he could help you too, that's why I invited him to Money Chill Out Podcast!
And today we are speaking about modern financial planning.
In this episode, we'll dive into:
– How modern financial planning differs from the traditional one?
💰 Examples of financial goals & how to make sure you get them done
🚦How to put in place a system to tell your money where to go
🌈 Great advice for you to get better in your money management
An empowering talk in financial literacy, with lots of practical ideas for you to use. Ready to learn and grow? 🚀
---
Episode #31: Real estate investments
Today I am very pleased to welcome Soph' and Val, the women behind Sivingsisters, an Instagram account that help demystify the real estate market. They launched last summer, already have a community of >10k followers, a team of around 15 freelancers and they provide group coaching from A to Z to help young people with their first buy.
Sophie has a real estate background from her studies, and Valerie is very interested in investments, she aims for financial freedom.
With their first salaries, they each bought a flat, and to continue investing, they launched a holding. They now have multiple properties near Perpignan, in the south of France, at the age of 25 and 27! So let's see how they do it and how they started!
---
Episode #30: Financial activism
Today I am honored to welcome Robert Gardner to Money Chill Out Podcast, a high-profile individual in the finance industry who uses his power to try to make the world a better place. On top of being director of Investments at Saint James Place and managing £150 billion of clients' wealth, he has founded the 4th largest investment consultancy in the UK and holds a few board positions. He is driven by financial well-being and making money a force for good and thus has an industry-leading position when it comes to responsible investing.
In this episode, we are talking about financial activism, the persistent campaigning to create change, from having a net 0 portfolio to being a member of climate action 100+ to engage with the largest emitters on the planet, to diversity in the workplace, and empowering people as early as 4 years old with money skills.
---
Episode #29: A woman against the odds
Today I am very happy to welcome Grace to the show. This woman brings fresh air and hope, coming from a disadvantaged background and making it all the way up to portfolio management. She oversees £800mio of assets and has been awarded Fund Manager of the year 2021 for women in investments. Not forgetting where she is coming from, she has a contagious simplicity, is mindful of what she spends, loves to treat her family and give back. She is well aware not everyone has her ascent, and as a lot of things happen at a young age, she is very involved and dedicated to sharing skills and knowledge with teenagers. She mentors, educates, prepares for interviews, and runs an investing group to show them finance can be an option.
In this episode, we'll talk about obstacles she faced when she was at uni, how she moved from audit to thrive in the fund management industry, what her job represents for her, how she lives and why investing is so important.
Key takeaways :
Career start

Her parents didn't go to uni, she was the first in her family
Didn't know what finance was, and if you miss the first steps (summer intern), you are at a disadvantage straight away
Applied to banking as everybody else was doing it
Got into a grad program in one of the big 4, and quickly realized she didn't like the job

Career change


She was audited fund managers, and loved the environment. That's where she wanted to go
Stayed for 3 years in audit as:

No chance to get into fund management
Would have to pay back her students fees

Audit qualification: would be something to put on her CV

In the meantime, she did everything to prepare herself and be more employable: passed the 3 levels of the CFA exam

What attracted her to the fund management industry?


You're being judged on performance :

Very liberating to be in control
huge appeal as she didn't have connections

Loved reading the news, looking at what was happening in the world, very curious
Applied to lots of jobs, got lucky to find a research and portfolio management position, moved from London to Edinburgh

How did she thrive?

It's her dream job. She had anger, was very willing, and wanted to work hard
One of the reasons she did so well:

New blood, younger, looked at things differently
Didn't know much so asked a lot of questions, made mistakes, learned, was never afraid to raise her voice

It also ticks the curiosity box: the world is changing all the time

How does she live?

Conscious of money and appreciating its value
Saw her mum struggling as a kid
When she spends money, always asks herself if it's worth it
Experiences are what make her happy

Spends most of her money on holiday and food

Treats her family

Investments

She started doing the worst thing: stuck money in cash
She then looked for better deals for cash, which was a slight improvement
Thanks to her privileged position in her job, she understood the market and started to invest
Most people who are lower down in the pay scale never get to learn about personal finance, they don't know what to do with their money to make it grow, and they are trapped in poverty.

One investment advice

Start

Don't try to be too smart or too complicated
Be simple. There are more chances you stick to the plan
---
Episode #28: Side hustles
Today I have the pleasure to welcome Valentine de Louvencourt to speak about side hustles. After a burnout, she created Wuju and co in 2016 to research the food industry, and launched My chef is smart in 2020 to sell the R&D they invented. In order to be financially stable, she kept a freelance activity in media consulting. It also enabled her to build equity, which is a prerequisite in order to get any funding. With loans, subsidies, and help from the regions, she built a 5-person team, and an innovative offer they are now ready to sell to a bigger group. Valentine is an entrepreneur at heart so wants to see what's next in another industry!
Let's dive into her world and see how she manages to dedicate her time and energy to these 3 projects to have things done without going mad!
Key takeaways :
As an employee

Work didn't make sense anymore
Wanted to be more connected to core values
Wanted tangible goals
Missed some freedom to create
Not on the same page with the management

Burnout

Didn't see the signals early enough
Need to quit when you realize something is wrong and you've tried to sort it

Advice: not to wait too long
The longest you wait the hardest it is to rise again
Not a fancy trend, it's real and hurts

How she started

From a long time ago, she wanted to create her company

Looked at the link between food and health, took 3 years to find some space in the industry
Things she needed: Money, time, collaborative work, humility
She created a 5-person team of experts

Met them in exhibitions and conferences

Funding

To get funds you need to have equity
Thanks to her freelance activity, she managed to build equity

With it, she got loans, subsidies, and help from the regions
Easy to get funds as an innovative solution

Everyone on the team was having another activity

Adjusting your freelancing job

To start with: No choice but to full-time mission
When she met her husband, she reallocated her time and started shorter missions
When she got her baby, she stopped the freelancing to devote 100% of her time to her start-up and family
Harder financially but it's a choice

How to juggle 3 jobs

Can't be everywhere so the keywords are :

Delegate, trust, accept making mistakes

Touching many topics at the same time provides freedom

It's good to be in the driving seat

If she could change one thing: be more self-confident from the beginning
Her experience transformed her and she is happy with the person she became

What's next

Best way to grow: have a bigger player incorporate her solution
Doesn't plan to stay in the food industry: wants to have a million jobs in her life

Look for new experiences and opportunities
---
Episode #27: Special edition, 1 year anniversary
Welcome to this Special Edition to celebrate 1 year of Money Chill Out podcasts. Time flies when you have fun and I am so happy and proud we're here now!
It's never a given when you launch and start something completely new. Back in 2019 podcasts weren't a media I was listening to, so when I thought about creating one in early 2021, I had, of course, no idea how to do it. In this episode, I am speaking about how I started, how I improved and got better, and the fears and doubts I faced about consistency, finding guests, and inspiring themes.
I am also reflecting on Financial Wellness to bring on the recorded episodes. It will bring you perspective, refresh some concepts, and you'll see how every theme is connected as you need a holistic view to feel good with your money.
Thanks so much to all my guests, for your time and your willingness to share, your experiences are invaluable. Thanks so much to my listeners, who share and support this podcast, your comments, feedback, and introductions are precious.
And there are also a few milestones we can celebrate like the first 1000 downloads after a few months, the global reach on the 5 continents, and the continuous effort to release an episode every 2 weeks.
To many more, and an immense thank you from the bottom of my heart!
Key takeaways :
Starting a podcast

Never a given when you launch something new
Read a lot on the internet and listened to podcasts on how to make a podcast
Talked with a lot of friends and acquaintances

Found my editor on Upwork platform
Bought my jingle online
Got friends lined up as my first guests
Even though I am alone in this, it's been a BIG team work!

Let's not forget the hard work and the doubts

Consistency
Guests
Themes
Audience etc

What drives me :

learn in each episode
Being the founder, I chose the subjects and make them a reflection of my world
I deliberately over represent women as guests
Reflect on the full cycle of money
Benevolent atmosphere

Grail with your money: to reach financial peace of mind

Think about money without reaction and accept it

Episode on money earned vs. Money received with Maureen

You need a positive mindset and practise gratitude
Being happy with what you have is key, recenter on you, social comparison is a killer
Mindset guides your actions, which drive your results

Episode with Laura on Money Mindset

Knowledge is power

You need to know your numbers
Awareness may lead you to change a few things

Tracking and planning episode with Anne-Claire

Have to be hands on financial literacy

As soon as you as you dive into the subject, things are less scary

Best time for action is now

Insight of a trader's own money management, Deep dive in fixed income, the ladies bank, Learning from the top episodes

Being empowered with your pay :

Knowing your worth episode with Johanna

To be truly peaceful: all comes with alignement

Vision should be holistic, and not seen in isolation
Understand you why, which is your purpose
Here to keep you grounded

Sustainable money episode, with Marine

Get inspired by your money

Redefining your successes with Sandra

Need to open up and share

Not to compare but to grow

Money and relationship, earning less than your partner, money and divorce, dual couple career episodes
---
Episode #26: Crypto money
Today I am very pleased to welcome Jean Marie, a computer engineer who has discovered cryptos back in 2016. And he really got into it, launching his YouTube channel in 2017 and writing 2 books in 2018 and 2019. We'll talk about the technology behind blockchain, why it's an entire new world and how we can use cryptos. We'll of course discuss about how to invest and how to start with the 15 000 cryptos available in the market. With a lot of FOMO going on and emotions taking over, we'll also speak about mental health. Having suffered a burnout in 2021 because of too much work, he is well aware money doesn't bring happiness and it's important to go back to the basics. Throughout this chat, I loved how Jean Marie gave perspective, so let's go back to "1995 for the internet" and open our minds!
Key takeaways :
What is blockchain?

It's a technology that redefines trust
Everybody sees what's happening
Decentralised
Immutable
No 3rd parties
Borderless
Apolitical / censorship resistant

What are the main cryptos:

There are 15 000 !
Bitcoin: gold 2.0
Etheruem : infrastructure of next generation internet. Like the OIS.

Those 2 combined : 75% of the interest
Polkadot or Cosmos: try to connect blockchain to each other

Use cases:

Some yet to be discovered

2020 was like 1995 for the internet

Monetary advantages for developing countries

Alternative to your local currency

Remove 3rd parties
Can be used for remittances

Principles to invest:

Be simple, start with bitcoin or ethereum

Use Coinbase or Kraken platform
Dollar cost averaging: small amounts every so often
Believe in a balanced and long term portfolio, crypto is risky
Once you're in, it forces you to follow the news

Learn about monetary policy, economy, game theory, sociology, geopolitics

Hot topic:

Lots of people who had never invested before, started with crypto
Ease of investing, and marketing
Process of mastering your finances
FOMO is a clear driver. Hear about success stories with extreme growth

Still, less than 5% of worldwide people have it.

Mental and financial health

Had a burnout, worked too much, with WFH he became a slave of his phone.
Mental and financial health:

Mental health: still undervalued

Financial skills: not taught at school
Need Emotional coaching
Money will not bring you happiness, as you always want more.

Never ending satisfaction. Important to take a step back and focus on the basics.
---
Episode #25: Redefining successes
Sandra is one of those people who have communicative energy. She does a lot, works a lot, but never forgets why she is here: to learn, grow, practice kindness and cultivate her happiness. She climbed the corporate ladder in an impressive way being the head of Facebook IQ for South Asia Pacific. She became a public figure in Singapore through her environmental activist work with the Up 2 degrees movement she created so that aircons are set at 23 degrees inside. She went twice to Antarctica, once with one of the most famous explorers Robert Swan and as a UN women ambassador. She decided to quit the best job, the best lifestyle to pursue her dream: sailing the world and really being. She trained for 6 months, felt very privileged to be on the "Round the world clip race", came back to London, and self-published a children's book on her adventure. She really pushes boundaries, connects with people, and inspires them. That's probably why she is been featured in a lot of media from the Financial Times to the London tube! Let's spend the next hour with this amazing woman who is fun, sharp, down-to-earth, and driven. Let's go!
Key takeaways :
How to be a high performer:

Throughout her 10 year career, she worked a lot. She ended head of Facebook IQ for South Asia Pacific. 13 countries.

Thinks in units of learning
Money is important but if you have growth, it will follows
Works for the right reasons

Her way of doing:

Has lots of energy
Uses kindness as much as possible
Looks for positive news
Wants to have something new to learn everyday
Asks for help
Makes connections

Financially speaking:

Family : Far from being rich, had to make choices and set priorities
Through her corporate successes, she accumulated wealth by saving a lot
Only spends money on something that would make her a better person and happy
Makes her money work. Her investments are towards wellness and happiness

Environmental activist:

Triggering moment : COP in Paris in 2016. Wanted to participate but was in Singapore
Looked for things which annoyed her, and found aircons
Created the "Up to 2 degrees" movement:

lobbied/convinced the government to change the regulation

Was a second job, asked to go part-time

Succeeded in 11 months to set a min temperature at 23 degrees

Quitting everything to sail around the world

On the sea: place where you can breathe and connect with something bigger
Wanted to do something for herself
She has achieved so much, wanted to "being", not "overdoing". Wanted a break
Hard to make the decision : quit the best lifestyle, the best job
Go to your heart, soul, stomach and ask yourself: what would I do if I weren't afraid

Different successes

Went twice to Antartica
Became a public figure in Singapore
Self published a book, "The round the world wanderer", which is printed on demand for the environmental impact with all the benefits going to UNICEF
Got featured in the FT on finding purpose, and broadcasted in London tube for the Clipper Race
---
Episode #24: Fundraising
Today I am very happy to welcome Simon to Money Chill Out, to speak about fundraising. Being in his 20s he has specific views on things, has learned on the go, and a lot by himself. This is pretty refreshing especially when we see the end results: he created Havr, a software company in 2016, experienced a 50% quarterly growth, had 25 employees, raised capital twice for a total of EUR 5.5 million, and has been awarded Forbes under 30. In this talk, we'll speak about values and how to create a successful start-up, we'll go through the fundraising process, and how to prepare to pitch. And we'll stay down to earth, focusing on well-being, when Simon and his partner decided to sell because they needed to do another round of fundraising but weren't ready for it. A great example of hard work, eagerness to learn, good sense, and vulnerability, let's go!
Key takeaways :
Starting a business out of serendipity

Best time while being a student as eagerness to learn things
Business partner :




Was looking for trust

It's a 8 to 10 year adventure : linked financially and under the law

Was looking for No ego

As an entrepreneur, you'll hire people better than you

He called few entrepreneurs 1 or 2 years ahead, asked them questions, advices, book references

Being able to show you're vulnerable gives more authenticity

Launched Havr:

Started in Feb 2016, paid himself 2000 euros in July 2018

At max, 25 employees

50% growth rate per quarter
Success because of product maturity, customers' understanding, good hires
Forbes under 30:

Awarded at 24, mainly had an impact on him and his confidence

Fund raising players

Engaged with both, Venture Capitals and Business Angels
BA: were better for his situation

The way you convince isn't the same
More human oriented
Being young, you have a sympathy capital

VCs: figure oriented

Professional investors, big money on the table, he wasn't enough mature

Fund raising process

BA: 2 rounds
VCs: 5 to 8 rounds

Pyramidal organisation: from intern to board
If one round doesn't go well, you're out
You can't reach them for 18 months

Capital dilution :

Isn't an issue, if you don't hold the majority of shares, you still can get the majority of votes

Pitching :

Part of Plug and Play, and Euratechnologies incubators
Read books on how to pitch
To set a target amount

Forecast 24 months of expenses

Otherwise too short, it takes an average of 6 months to fund raise!

Made a list of 10 targets he wanted to have in his capital, from the least to the more interesting
Started!

Sold his company in October 2021, and new plans

He Needed to fundraise, but people and him were tired
Weren't ready for this new step
Decided to be grateful to where they were, and leave it to a bigger name to continue growing
Will dedicate this year to learning on his own money management
---
Episode #23: Deep dive in fixed income
Today with Timothee Pubellier, we are doing a deep dive into fixed income, those products that provide periodic income payments at predetermined interest rates. They are often seen as more technical and complex than equities, but they can be great for diversifying your portfolio and for providing additional revenues. Even though he serves institutional clients, today's focus will be on individuals so that we have a great overview on why, how, and when we can use bonds in our portfolio. And we'll use our expert to go further, discussing portfolio construction, diversification, and the current economic environment. Let's embark in this financial literacy discussion, where concepts are explained for everyone!
Key takeaways :
What is fixed income or bonds:

You lend money

In exchange you receive the coupons
At the end of contract, you get your principal back
It's called fixed income as the coupon has a fixed interest rate

2 main risks:

Default : the counterparty you lent to can't repay back

2 classifications to evaluate the credit risk

Investment grade rating: safer
High yield: more risk

Interest rate risk

If rates go up, the price of your bond go down, as your fixed coupon is less appealing. You can find better deals in the market
Price is moving all the time, very wide market

Bond market characteristics

Primary market: at time of issuance. For institutional only
Secondary market : like a second hand market, It's complex as there are hundreds of bonds for just one company
Better to use funds or Exchange Traded funds
Duration: sensitivity of your portfolio to a move in interest rate. One of the most important metrics

Portfolio construction

Everything is a question of balance/diversification
Geographically : need global bonds, otherwise country specific risk
Need a mix of government and corporate issuances
Rating: look for Investment grade mainly
Duration: the shorter, the safer

If you lend for 6 months, there is less risk than for 30 years for 2 reasons:

Credit risk: you have more visibility for a 6 months period rather than a 30 years' one
Interest rate risk: there is more time for interest rates to go up, and you would be stuck with your fixed interest coupon
How to invest for an individual:

Accumulation funds: for capital appreciation
Distribution funds : to get a stream of income
Good supports to invest in fixed income

Life insurance or ISAs as they have tax benefits attached

Central banks actions and impacts




Through interest rate moves. Expectations that they will have to raise rates as economy is hot with inflation. Not good for fixed income performance.

Through tapering: they buy less bonds. The market has to work by itself.

Through quantitative tightening: they want to reduce their exposure, not only not buying new issues but selling some of their positions. The rest of the market will have to step up to absorb it.
---
Episode #22: The ladies bank
Today it's an honor to welcome Alix de Renty, the person behind the Ladies Bank by Oddo BHF, an information website dedicated to women's financial needs. After seeing so many of her female clients sending their brothers/fathers/lawyers for appointments in her private banker role, she decided to do something about it and launched a free content platform back in 2016. Thanks to varied characters and the issues they may encounter throughout their lives, her goal is to make you want to play an active and positive role in your finances. This side activity is her way of giving back time, knowledge, and education on such an important matter. And it's for everyone, you don't need to be a millionaire!
In this inspiring talk, we'll go through what it is to be a private banker, how she helps wealthy clients to build a portfolio, and what we can do at our level. We'll speak about women's wealth, and how despite representing 50%, their needs weren't met by the industry. We'll learn about studies they have conducted to really understand what truly matters to women, and what they have implemented to make them more care and reach much more engagement. It's all about meaning and purpose, not about the best performance! Let's go!
Key takeaways :
Private banker at Oddo BHF


Wanted an impact in the real economy and in real life
Her clients are entrepreneurs or top managers
50% women, 50% men
Organise finance and wealth so that clients can stay focus on their job

Portfolio construction

Financial tax: lead theme in France

Find the right buckets for the various asset classes
Do they need the money? If not, can take more risk.

Can they handle volatility? If yes, can invest in financial markets and private equity

Something was missing

45% clients were women but 80% of appointments were with men:

women sent their brothers/fathers/lawyers etc

They weren't interested as the meetings weren't designed for a women's perspective

They weren't interested in the best performance
They wanted help, tips and solutions for real life situations

Women's view of wealth management

Want to give meaning to their wealth, understand the WHY.

Key is being Empathetic

Listen to their needs and don't push products
Need to build trust
Need to touch the heart of the person first, 50% is psychology

The ladies' bank

It's for everyone, you don't need to be a millionaire!
It's free and a great way to share knowledge and eduction
More than 500 articles published
Audience : 50% women 50% men
For Alix, amazing side activity who gives her a purpose in life

What's your one principle everybody should follow?

KNOW your numbers

Force yourself to save money
If you are confident, invest the savings

It's not about big numbers, you just need to start
---
Episode #21: Sustainable money, a discussion on social and environmental performance
Today we are speaking about sustainable money or how to align profit and purpose whether you are a company, an individual, or an investor. And we are joined by @Marine Hortemel who will immerse us into her world on how she helps and guides companies to get the well-known Bcorp international label. We'll go through initiatives taking place to take care of our one planet, from new banking concepts to impact investment funds and how we can better spend our money. We have to be alert on ESG matters, reading labels, and enquiring about processes so that there is no space for greenwashing. We as individuals have a lot of power, let's get inspired!
Key takeaways :
Bcorp label


Align profitability and sustainability
Founded in 2006, 4 000 Corporations certified in 50 countries,

Very holistic label

Framework updated every 3 years: continuous improvement process
Some companies names: Patagonia, Ben & jerry's, Naturalia

Don't underestimate people's power

As an individual, we have power, we can choose what resonates with us in every actions and decisions we make.

Need to be alert and educated so that there is no room for greenwashing

Read the labels for everything you buy and use
Initiatives to make our money more sustainable
Go to a green bank : Green got, Helios etc

As an investor

Check the websites of the companies you want to invest in : same as looking at the labels

lita.co

: references sustainable companies looking for investors

Invest with an impact:

Mirova : One of the first fund that got B corp certified
Founders future : fund for impact start up
Citizen capital
Alter equity

Marine's way of being aligned

Connect with nature everyday
Practises yoga
Only buys local food and cooks every meal
Next on her list is being mindful of what she wears !
---
Episode #20: New year, new you with your money
With the year coming to an end, it's always good to reflect and take perspective. This year's achievements have gone way beyond what I imagined. I launched my podcast being 8 months pregnant and a few episodes later, I had listeners in each of the continents. This is the magic of our globalized world and the power of reach to do it in English.
So for the 20th episode I, @Marieka Finot, am doing the talking on a few principles that I follow and that have helped me hugely with my money. Because I find them of great value, because I am sure they could serve you too, and because they are a great way to achieve financial wellness, I am sharing them with you. Listen having an open mind, take those that suit you, enquire about others, and adapt them to your way of doing. This isn't a lesson, nor an exhaustive list, just my top 5 principles discovered thanks to my experience and through helping others with my coaching.
My key principles
You need to go financially naked, or in other words, you need to open up on the subject of money.

Value your time, your happiness and link it to your spending.

Make your money work

Think about the future
Detach yourself from money and have a gratitude mindset
---
Episode #19: The definition of a business woman
Today I am having a discussion with A businesswoman. Kristen juggles a CFO job with a side hustle and a family of 4. She is impressive in many ways: She started to be money educated at 6 years old, started working at 13, and made her way up in the corporate world thanks to a bit of luck and lots of hard work. She has an entrepreneurial spirit and isn't afraid to fail, she just doesn't want to have any regrets! Her way of doing is pretty refreshing, she trusts people, delegates, spends 1 hour exercising each day, and doesn't beat herself up if she can't fit everything in. A very down-to-earth and inspiring woman, let's listen!
Key takeaways :
At a certain level, most important skill : people


`Everything is about relationship & communications
Being transparent
Getting everyone work well together

Personal finances & investments

Very good at saving, organised and disciplined
Invest in very early stage companies : biotech startups

Put a $10k ticket

2 out of 10: have hit really bigPersonal finance and investments

Side activity: lactation and mental health support

Most fragile period of a woman's life
Pitched the idea and got funding to have a team
Subscription based platform

Daily routine

The most efficient employee is a mother : don't have time for the garbage
Always get a good night sleep
1h every single day to exercise in the nature

Try to meditate, to be more present, stop worrying about the future

To fit everything :

Giving your people the confidence to tackle things and delegate

They gonna make mistakes and that's ok.

She is only one person, and doesn't beat herself up.

Mantra: don't be afraid, ask questions and jump right in. Don't want to have regrets and what do you have to lose?
---
Episode #18: Knowing your worth
Being paid for your worth and having a fair salary seems pretty obvious, but very often when it comes to money and especially with money at work, we can feel awkward and uncomfortable. Do you know that the vast majority of women never negotiate a salary? Why isn't there full transparency on salary disclosure? Do you think and hope companies will recognize your worth and give you pay rises? The corporate world doesn't work that way, and you need to advocate for yourself. And today, we are joined by Johanna Perrin, a talent lead who will empower you with practical tools and tips to prepare for a salary discussion. With her experience, you'll take some perspective knowing what's being done in the recruitment space, put yourself into companies' shoes, and through research and knowledge you'll get more assertive and find credibility. A rich discussion that may change your way of seeing things and push you to act! Let's go!
Key takeaways :
Recruitment process


Not much transparency on salary disclosure as legacy issues:

Lots of salary differences for the same position
As no transparency internally, you can't have transparency externally

Massive difference in women's easiness compared to men:

80% of women do not negotiate
Junior candidates: don't negotiate either, not in a position of power

Need the right pay at the start

Otherwise frustration will come, and it's from your own making as you accepted it
Enter a company with the feeling you are being paid fairly

Future based hypothesis : may not happen
If you're below the market price, you'll spend your whole career trying to catch up on that gap

2 best times to review salaries

Scope of responsibility changes
Annual review : next step and career progression

Empower yourself with research
Look at your performance, KPIs etc and demonstrate you've achieved
Need credibility: demonstrate data and knowledge. Put a business case behind why you deserve more

Few steps to prepare a salary discussion

Get a salary benchmark pool:

On websites like Pay scale, glass door

Find data points from similar job offers

On websites like Linkedin & Indeed

Download the yearly comprehensive salary guide

From Michael page for ex.

Speak about pay with your network

If you don't have much negotiation power

Find a non monetary win win solution
Ask for a training course or a certification.

If you aren't at ease, how can you change your mindset?

Need to be prepared
Companies : aim at lower end of the buffer, they expect you to come back and negotiate
All is about research and knowledge. That empowers you & you'll be more assertive
---
Episode #17: Dual couple career, or when one put his career on the side
Today I have the pleasure to welcome PH, a new generation of feminist man, who is trying to change old norms and behaviours. Taking care of his daughter while his wife was in the US trying to grow her company, he realised what it is to be a single parent in charge and the challenges it created, having to leave work at 5pm everyday and barely having any social interactions. Earning less than his wife and only working 2 days a week as a freelancer, his relationship with money has changed, so has their way to invest. The rest of the time, he is working on a side hustle to empower men at birth with videos on how to raise their partners' oxytocin levels. Such a great insight into a more traditional woman's way of life, let's go!
Key takeaways :
A crucial role in his wife's success


Manage the kids and the admin
Being in charge on his own, acting as a single father for 3 months
How will he cope with no adult discussion?
Will work be ok, having to leave at 5pm everyday?

Tips – Balancing your career


Need to have a comprehensive boss
Need to be strong mentally, efficient & get enough sleep
One of the hardest thing was to lose contact with society and to be alone every night

Couple's investments

Now that they are more financially better off they can take more risks
Investing in start ups as they connected with founders & have contacts. Risky as only 10% manage to survive
Investing in stocks, with the bulk part in large European & US companies, and 20/30% in emerging markets

Pierre Henri's side hustle

Needed his wife's encouragement to only work 2 days a week: as salary difference would be big, and family would rely on her
Created My birthing pal to empower men at birth with videos on how to raise your partner's oxytocin level
Read books and realised there is very little material for men, by men.

Realised the role of the father is so important during the delivery process
---
Episode #16: Money Mindset
Today I am welcoming Laura, a 27 year old Londoner who is sharing her money journey, in an uncomplicated way. Because she is relatable, is starting from scratch and learning along the way, she inspires many people to get better with their money. Talking about all aspects of saving, budgeting, clearing a debt, and investing, she does it in a fun, judgment free and jargon free way. And she is here in Money Chill Out to connect the emotional to the practical, so let's go straight to step 1 as everything starts with money mindset. Let's see what it encompasses, and what we can do with it!
Key takeaways :
Being at ease with money


Talk about money all the time, with friends
Help each other through pay rises etc
Money is amazing, it gives opportunity and freedom
Friends were missing out on money and tips

Money mindset

How you think and feel about money. Affects your behaviour
Impacts the right side of the brain: emotions, not logic
Our thoughts create our reality
Financial stress isn't about the numbers

How to change it?

Acknowledge where you are :

Journal – Vision board – Affirmations

Habit based goal:

Little things that make you feel you are progressing

Educate yourself
Have an accountability partner

Laura's finances

Saves on average 35% of her income

Prioritise saving to spending
Connects the emotional to the practical
Biggest investment mistake:

Not having invested before
---
Episode #15: How to monetise your online content?
Today I have the pleasure to welcome Meriem, a beauty content creator and the woman behind Mimi's signature. She started back in 2016 to share her idea of beauty to empower women to love themselves. 5 years later, she has built a community of more than 130k followers on her YouTube channel and some of her videos are approaching a million views! We'll speak about the onset of her blog, her start as a video publisher, and how she slowly grew to be able to live from her activity and diversify her sources of income. Now being pretty successful she doesn't forget all the efforts and is still very down to earth. Let's hear about her adventure she compares to a marathon!
Key takeaways :
Launching Mimi's signature to empower women to love themselves


Felt into beauty at a young age because of a skin issue

Paid her blog thanks to her yoga job
Problem: not regular

Getting a million views per month on Youtube

Need interesting content and a good concept
Release videos twice a week, every week of the year
Have to retain your followers
The more followers, the more keen people are to engage

Different sources of income

YouTube partner: paid by the ads, per number of views
Affiliate codes
Collaboration and campaigns
Tester before product launches

Key tips

Never give up, it's a marathon not a sprint
Number of followers isn't important, it's how active they are
Often don't see the years of work before being known
Need consistency
---
Episode #14: A success story for a business with values
Today I am welcoming Benjamin, the co-founder of Unbottled, a French-made solid beauty products company that wants to free bathrooms from plastic and chemical products. With people's willingness to reduce waste and be more planet-friendly, their products have found a sweet spot. And it's booming! A year since the launch, they expect to reach 5 million of sales by year-end. From finding the right business partner to starting a brand and reaching out to clients, you'll get brilliant and down-to-earth feedback and advice on their adventure, of course with a financial and money lense.
For anyone looking to launch his project or anyone who likes to learn about success stories, this episode is for you, you'll learn a lot and for sure get inspired!
Key takeaways :
Finding the right partner


It's KEY
Need different hard and soft skills. Complementarity
Have a list of 100 questions each, discuss, argue, and agree to make sure personality fits

Creating a brand

Draft a brand book

Values, direction, strategy

Make assumptions even if 95% of them will be wrong
Find your sweet spot


Money tips

Lived with his economy for the year of prep work
Now gets 2000 euros per month
Don't want to raise capital
Got subsidies and bank loans
Hardest thing is the cash aspect

Big working capital swings: need to invest in inventory before selling the products

To increase your brand awareness

Word of mouth
Paid acquisitions on instagram
Get articles in the press by sending your products
Make collaboration with other brands
---
Episode #13: Being self employed and all that comes with it
Today I have the pleasure to interview Lauriane Gepner, a travel and lifestyle journalist, and we are talking about being self-employed and all that comes with it. Indeed, her passion for writing is only 50% of the job, and she needs to manage a lot more from prospecting to pitching new story ideas, organizing trips, and making sure your clients pay. So let's dig into how to organize your time, how to create a name, and how to make a living when you are your own boss. And with 10 years of experience, let's get her wise feedback on setting your own business rules, through confidence, legitimacy, and proactivity.
Key takeaways :
S

elf employed travel and lifestyle journalist

Passion for writing is only 50% of the job
Hardest thing: all what comes with it

Prospecting clients / Pitching story ideas
Organising trips and with your time
Making sure your clients pay

Money aspects

Media industry: not much leeway, you take what you are being offered
Paid by the number of signs
Writing for the web: pays less as so much available content
Most beautiful business cards don't necessarily make you a living
Nothing happens by magic: work hard to make a name

Top tips

The more you write, the more you have things to show
Experience gives you freedom and confidence
Be proactive, find yourself legitimate to prospect
Refuse jobs when no interest in the topic and time/money ratio isn't worth it
Do work that would take you somewhere else even though it's not well paid
---
Episode #12: Learning from the top, part I, investments and initiatives to financially empower women
We are back with Lindsey, who took over a financial planning and advise business in Seattle and today we're discussing about investments and initiatives to financially empower women. This episode is an inspiring lesson and a share of knowledge so that people understand how women invest, what they are after, and how to start investing following key investment principles and tips so that you have the confidence to make informed rational decisions and reach financial independence. what a great program !
Key takeaways :
Women and investments

Greater risk awareness for women
Makes us better investors, because we take the time to understand
Women focus on the big picture and long term

Investment principles

Start small and invest as soon as possible

Look at the long term. Differentiate between saving and investing

Create a portfolio for each goal

Investment tips

Understand WHY you are investing
Understand the psychology of money, as it influences our decisions
Stay focused, and make informed rational decisions
Start the discussion, to get more comfortable and learn from others

Empowering women

Writing a book: A journey to financial independence through real life ups and downs
Workshops on creating smart financial goals, proper use of borrowing, protecting yourself and investing essentials
Consulting: 3 months to 3 year. Financial expert to lean on
---
Episode #11: Learning from the top, part I, financial planning
Financial planning is an usual word, still, we don't necessarily know what it is and all that it covers. From understanding the mechanics of money, to establishing financial goals and ways to get there, let's learn about this new generation of female financial planner who seek to partner with their clients and help them transition in life. And for this, Lindsey, a pretty inspiring profile in the finance industry, who took over a family business in Seattle, will shed a light on her activity.
Key takeaways :
An early interest in finance


Wanted to understand the mechanics of money
Parents divorced, it reinforced her wish
Good start of career, loved the area and thrived with mentors and champions

Becoming a business owner


Big commitment: work for a family business, not just a job, more LT
Extended time off to travel to make sure it was the right opportunity for her
Extremely rewarding and challenging at times

What it is to be a financial advisor

Partner with a client, establish current financial situation, where they want to go and create a roadmap to get there
Identify areas where the plan can be disrupted through life events
Manage client assets
Fee for service engagement and/or ongoing management fee
---
Episode #10: Money when moving to a new country
Expatriation is amazing: it's a new challenge, it widens your mind and it's full of discoveries. Still, you need to understand well the local specificities in order to be able to negotiate your salary and leave with good conditions. Money considerations like cost of living, taxes, and pensions are very important. So is your return to your home country. To get back on your foot have peace of mind, a bit of planning and forward-thinking is essential. So let's hear about Julie's experience, a French woman living in Romania.
Key takeaways :
Move to Romania


Wanted a challenge, to discover something new and to widen the mind
Were targeting Europe, and wanted to do it early without kids
Took 6 months to find an opportunity
As they were moving as a couple, in the deal, the company had to find a job for the 2 of them

Money considerations

Local contract paid 3 times less than her French salary

Negotiated a net salary, to avoid complicated taxes considerations
To get a feel of the living cost, did a 1-week trip and got a cheat sheet provided by her company

Looking at the global package and with her husband's expat contract,

they were better off

Return to the home country

Negotiated 3 years ago, to come back to the same company once the experience is over
Local pension: European law that enables to convert back the contributions back to your home country
Salary on her return: still being negotiated but hope for a 10% increase compared to when she left
---
Episode #9: Earning less than your partner
Today I am with Benjamin, who earns less than his wife. Like 25% of couples, he is not the primary breadwinner and feels great about it. He was working in investment banking and decided to move to Moodys to spend more time with his girls, to be the king of his agenda and so that his wife could take a big opportunity. He sees his couple as a team and even though this situation is much frequent than we think, he still gets jokes about it and thinks men aren't ready for it! We'll also speak about investments, where Benjamin's focus is really about income tax relief, and how he became a whisky investor with the desire to build something for his girls.
Let's listen to this story, full of good sense!
Key takeaways :
Earning less and feeling great about it


Earning less: very open, everybody knows about it, he is proud
His wife earns 15% more, been 3 years
Great not to be the main breadwinner, take a weight off the shoulders
Men aren't ready for it: he gets jokes, doesn't understand why but doesn't care because he prefers to be in his situation. The more they earn, the better.

Teamwork


His wife was able to take the opportunity as he was managing the girls
He Moved away from investment banking,

accepted to earn less, to spend more time with his daughter
Now it's much better: He is flexible and the king of his agenda

Investments

He manages for them, even though his wife is aware and confident. He uses his own spreadsheet
Big focus on Income tax relief
Invest in Whisky: Desire to build something for his girls
---
Episode #8: Financially planning for big events: studies and baby
Tessa is a bright woman with a lot of ambition. She works hard, puts in the effort, and manages to achieve. From ESSEC, a top French Business School to Harvard in the US, she always eyes for the top. But studies have a cost and she managed to have a big chunk of her MBA funded by merit-based scholarships. What's great is that since living in the US, she has also learned about raising funds for charities. She'll share with us how she does it and what are her tips to be focused on and achieve. She is now about to welcome a baby boy, so let's see how her financial planning is going on!
Key takeaways :
How to fund an MBA at Harvard

Calculated risk, $140k for 2 years of tuition fees
Lots of research to know about scholarships and financial aid:
Managed to get a big chunk fully funded by a merit-based scholarship
Borrowed the remaining portion, at low-interest rates

How to achieve


Be as smart as possible: Get the most info possible
Get comfortable making a decision without having all the set of data
A lot of work, work ethic
Determination

Financially planning for a baby

in NY, employers do their own thing for family leave to attract talents
For Tessa, can take up to 12 weeks off, paid at 67%
Paternity leave: 2 weeks
Cost of living in NY compared to Paris (2 to 3 times more expensive without a baby!), so financial planning is key!
---
Episode #7: Money and divorce
Sometimes there are things in life that we didn't plan, like divorce. At money chill out, we have no taboo speaking about money and it should be the case with whatever situation we are facing. Our guest today, Anne, 33 and mum of Archibald is sharing her story of separation through the money lens. From the decision to split to the ups and downs of the legal process, the financial terms of the divorce, and the new life that she is willing to embrace, let's embark on this discussion where openness and benevolence are prevailing.
Key takeaways :
Divorce

Initiated it after 11 years. Unhappy, too much energy to make it work.

Personal and pro-life were mixed

Didn't plan anything money-wise. Were about to open a restaurant together.

A 2-year process


Complexities as under French wedding law, but divorce under Portuguese court.

Hard time. Naïve about not having the dirty money conversation
Money is an easy subject to fight. But the dad of my child, so don't want to hurt him

Result

Trust saved them. Found a win-win agreement after a long negotiation. Happy ex-couple.

Found a balance: shared custody for their 4yr old child
When you give, you always get it back somehow and you can start living your new life and having exciting projects
---
Episode #6: Money and relationships
Today we gonna speak about Money and relationship!
Ever wondered how others do? Listen to this episode where Fadia gives us insight on how she does it!
Lots of subjects to speak about, from her wedding law and heritage questions, to how money is split for the day-to-day spending and who does what for the Medium to Long term investments.
Great money and investment insights from a couple where there are no natural leaders.


Key takeaways :
Family set up

Wedding contract: separation of goods as entrepreneurs. Protection needed not to pass the debt to the family.

Day to day budget: Fadia was paying the mortgage, then equal split, then joint account, now more proportionally to what each earns
Tips for money within the couple: communication is KEY!

Who does what?


Her: real estate: used leverage as very low-interest rates
Him: financial products.

All decision and investments are shared and discussed

Both risk-takers

Action plan to start investing:

Talk with friends and family to forge an opinion
confront a list of questions with professionals
listen to podcasts
---
Episode #5: Money in unplanned circumstances
Often, there are things you don't control in life, like being made redundant.
In this episode, we'll speak about money when the near future is uncertain, but when opportunities are open and when a change is possible.
Let's see how Maud has managed from hearing the news, to make this period one of opportunities, and the new challenges she faces.
Interesting story on a situation that happens way more than we think and when we need to truly let go!
Key takeaways :
Being made redundant

Took it extremely personally

It hurts ego wise

Decent redundancy package

Then mentally shifted to a new world of opportunities to move on

What's next for Maud?

Realized it's important to bring money to her family

Became yoga teacher

expand outside of your inner circle: very hard

Looking for:

Flexibility

Having different activities as it's nourishing and constructive

Opportunity to let go, get rid of the control you normally put in place

New challenges

What people would think about me: hard

Not comfortable with uncertainty: but needs to manage and live in the present moment

Not drawing conclusions too fast, give time to things
---
Episode #4: Money earned vs. money received and investments in Arts
Today we'll dig into the consequences of being gifted money, the responsibility it implies, the choices made with it, and the differences compared to when we earn it in corporate life. Being with an art enthusiast, we have wisely used Maureen's passion and knowledge to know more about this non-usual asset class!
Key takeaways :
Maureen money concepts:

Feel better if manage to put money aside

Don't spend more money than you earn

Align your spending with an increased happiness

Be aware: speak to people, surround yourself with experts in their fields, read the newspaper

Listen carefully, ask questions, nourish yourself

Art is a passion

First step: Need to define what you like, don't like. Then discuss the price.

To keep track of artists

Receive daily newsletter

Subscription to art magazines

Go to galleries and few necessary annual events

Art Basel, Art Basel Miami, Fiac Paris, Freeze London
---
Episode #3: Insight of a trader's own money management
Ever wanted to know how a trader deals with her own money and what are her best practices? In just 30 minutes, we'll get great insight into money management and discipline, equity investment, and how to be switched on in our world to know our worth. Don't miss this rich and accessible discussion from someone in the industry, without forgetting some lightheartedness!
Key takeaways :
If you have a clear goal in mind, discipline is easier
Align spending to your important things in life
Invest in equities:

That talk to you, where you either like the story behind it, the vision and want them to grow
Undervalued stocks
To spread risk from real estate

In order to gain knowledge:

Expose yourself to news in order to be switched on: Bloomberg TV, economist podcasts, seeking alpha blog

For salary awareness and negotiations: be aware of your industry, knowledge is power

Discuss and disclose salaries/bonuses to friends
Take headhunters calls, to have a market update of who's looking and at what salary

Best tips:

Have a 3-month safety net as a cushion and peace of mind to cope for unexpected events and rainy days
Need control over finances: knowing your inflows and outflows removes pressure, and you can act to achieve your goals
Start investing small, get familiar, and learn through the process
---
Episode #2: Not depending on a paycheck through real estate investment
Want to be financially independent in your early 30s? This is possible! Listen to Vanessa's story on how she massively saved while in the corporate world, to invest in real estate and solely rely on rent incomes. With this in place, she was able to take some risks, she launched her own start-up and became a trendy digital nomad. Don't miss her great tips and her very inspiring story!
Key takeaways :
Going from a financially comfortable corporate job to launching a start-up




Impatient, wanted things to move more quickly
Don't want anyone to decide on her career

Planning a change


Focused on her goal: saved a lot for 3 years to invest in a property and be financially independent.

Had to stop traveling and spending

Was easier than thought as it's a step by step process and then you get used to it

Tips not to depend on a paycheck

Save, invest and diversify

risk management

Want to control risk, always imagine the worst-case scenario and if you can handle it
Need savings on the side to have peace of mind
No equity investment: need stability as way of life is more risky

Tips to invest in real estate

Buy a rundown house, that needs a lot of work in a promising neighborhood
Look at websites to see similar listings and have an idea of potential income
Contact the council to understand the law and what you're allowed to do
Compare the ratio of investment vs. what you can expect as a return
---
Episode #1: Tracking, planning, and forecasting to go a long way in life!
In this episode, we'll speak about tracking, planning, and forecasting with a finance director, Anne-Claire Aubert. She'll tell us why it's so important to be aware of what you have and spend, how you can track your finances and take actions on what you've discovered, how she has planned a move from Australia to Europe with no jobs and 2 kids, and the process she followed to buy a house. Lots of info and insight from a rational woman.
Key takeaways :
Tracking:

 

Eye opener, use an app so that it gives you a report each month. Enables you to see where you spend without necessarily realizing it. Possibility to take actions as now you're aware

Planning:

Planning a move is always risky but you need to mitigate it.

 

Going from Australia to Europe, with no jobs and 2 kids, was fine as worst comes to the worst, there was a family house they could use, so no expenses except groceries, and summer holidays so kids not in school.

 

Forecasting:

Thought process for buying a house: LT view, stop throwing money away through rent
First step: Meet with a broker, to have an idea of a budget.

 

Don't necessarily go to the maximum you can afford
Do worst-case scenario: what if one loses its job, or the two.

 

Any advice for a house:

The sooner you can buy, do it